Studies in Critical Thinking
Synopsis
Critical thinking deserves both imaginative teaching and serious theoretical attention. Studies in Critical Thinking assembles an all-star cast to serve both.

EDITOR: J. Anthony Blair (Windsor)
INTRO:  On What Critical Thinking Is (Alec Fisher, East Anglia)
PART II On Teaching CT (Blair & Scriven)  5 Exercises: Validity (Derek Allen, Toronto), Teaching Argument Construction (Kingsbury, Waikato), C.T About Students' Own Beliefs (Tracy Bowell, Waikato & Justine Kingsbury), Settling Conflict by Compromise (Jan Albert van Laar, Groningen), Using Arguments to Inquire (Sharon Bailin, Simon Fraser & Mark Battersby, Capilano)
PART III 7 Chapters on Argument: Arguments and CT (J. Anthony Blair), The Concept of an Argument (David Hitchcock, McMaster), Using Computer Aided Argument Mapping to Teach CT (Martin Davies, Ashley Barnett, Tim van Gelder, Melbourne), Argument Schemes and Argument Mining (Douglas Walton, Windsor), Constructing Effective Arguments (Beth Innocenti, Kansas), Judging Arguments (Blair), Introduction to Fallaciousness (Christopher Tindale, Windsor).
PART IV 7 Chapters on Useful Background for CT: How a Critical Thinkeer Uses the Web (Sally Jackson, Illinois at Urbana-Champaign), Definition (Robert Ennis, Illinois at Urbana-Champaign), Generalizing (Dale Hample & Yiwen Dai, Maryland), Appeals to Authorit8y: Sources & Experts (Mark Battersby), Logic and CT, (G.C. Goddu, Richmond), Abduction and Inference to the Best Explanation (John Woods, British Columbia). The Unruly Logic of Evaluation (Michael Scriven, Claremont)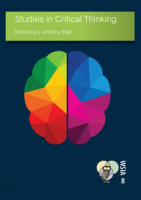 Copyright (c) 2019 of original chapters belongs to the authors. For copyright right of previously published works refer to the Original Publication of Essays in this publication. Cover design by Ellen Duckman
This work is licensed under a Creative Commons Attribution-NonCommercial-NoDerivatives 4.0 International License.
Details about the available publication format: Buy a print copy
ISBN-13 (15)
978-0920233863
Date of first publication (11)
2019-03-01