Deliberative Rhetoric: Arguing about Doing
Synopsis
Christian Kock's essays show the essential interconnectedness of practical reasoning, rhetoric and deliberative democracy. They constitute a unique contribution to argumentation theory that draws on – and criticizes – the work of philosophers, rhetoricians, political scientists and other argumentation theorists. It puts rhetoric in the service of modern democracies by drawing attention to the obligations of politicians to articulate arguments and objections that citizens can weigh against each other in their deliberations about possible courses of action.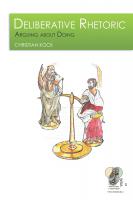 Published
February 27, 2018
Copyright (c) 2018 University of Windsor Digital Press
This work is licensed under a Creative Commons Attribution-NonCommercial-NoDerivatives 4.0 International License.
Details about the available publication format: Buy a print copy