The Rise of Informal Logic: Essays on Argumentation, Critical Thinking, Reasoning and Politics
Keywords:
Informal Logic, Argumentation, Rhetoric, Critical Thinking, Reasoning
Synopsis
We are pleased to release this digital edition of Ralph Johnson's The Rise of Informal Logic as Volume 2 in the series Windsor Studies in Argumentation. This edition is a reprint of the previous Vale Press edition with some minor corrections.
We have decided to make this the second volume in the series because it is such a compelling account of the formation of informal logic as a discipline, written by one of the founders of the field. The book includes essential chapters on the history and development of informal logic. Other chapters are key reflections on the theoretical issues raised by the attempt to understand informal argument. Many of the papers were previously published in important journals. A number of them were co-authored with J. Anthony Blair. Three of them have appeared only in the present book.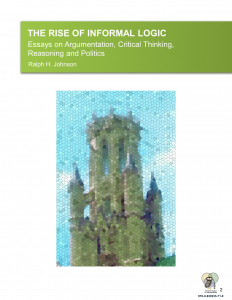 Categories
Details about the available publication format: EPUB
ISBN-13 (15)
978-0-920233-71-9
doi
10.22329/10.22329/wsia.02.2014
Details about the available publication format: Kindle
ISBN-13 (15)
978-0-920233-71-9
Details about the available publication format: PDF
ISBN-13 (15)
978-0-920233-71-9
doi
10.22329/wsia.02.2014