Rigour and Reason : Essays in Honour of Hans Vilhelm Hansen
Synopsis
Built in the centre of Copenhagen, and noted for its equestrian stairway, the Rundetaarn (Round Tower), was intended as an astronomical observatory. Part of a complex of buildings that once included a university library, it affords expansive views of the city in every direction, towering above what surrounds it. The metaphor of the towering figure, who sees what others might not, whose vantage point allows him to visualize how things fit together, and who has an earned-stature of respect and authority, fits another Danish stalwart, Hans Vilhelm Hansen, whose contributions to the fields of informal logic and argument theory have earned the gratitude of his colleagues, and inspired this collection of essays, written to express the appreciation of its authors and of the many, many colleagues they represent.
Chapters
Aristotle's Conception of a Fallacy

Mill and the Duty to Argue

Russell and Aristotle on First Principles

A Surprising Concurrence

Opposition and Polarization

Norms of Advocacy

Justification in Ethics

Just Following the Rules

Collapse/Incoherence Problems in Ethics, Epistemology, and Argumentation Theory

Flew on the Presumption of Atheism and His Case for Deism

A Perspective from Argumentation Theory

How to Define An Informal Logic

Argumentation Schemes and Audiences

What Rhetoric Can Bring to Scheme Theory

The Straw Man and its Baby Semantics

Hansen on the Structure of Balance-of-Considerations Arguments

Christian Kock's Attack on Sufficiency

Tools for Teaching and Learning Basic Argumentation Skills

Mill's Defense of a Rawlsian Conception of Social Justice

Rhetorical Analysis of Aesthetic Power – in Music and Oratory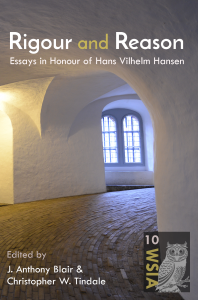 Downloads
Categories
Copyright (c) 2020 Windsor Studies in Argumentation & the original authors, unless otherwise noted. Image of the Rundetaarn by Jorge Láscar. Photograph on back cover of Hans V. Hansen by Madeleine Hansen.
Details about the available publication format: PDF
ISBN-13 (15)
978-0-920233-93-1
Date of first publication (11)
2020-06-01
doi
10.22329/wsia.10.2020
Details about the available publication format: EPUB
ISBN-13 (15)
978-0-920233-93-1
Details about the available publication format: Buy a Print Copy